Refined fuels and crude oils


The directors and staff of Excess Oil & Gas collectively bring over 100 years of experience to serve you. The directors of Excess Oil & Gas are drawn from engineering and oil backgrounds and have used the skills and contacts available to them to good use. Currently Excess Oil & Gas has contracts to supply the following volumes of products to its list of worldwide customers.
| | | |
| --- | --- | --- |
| Product | Volume | Period |
| Crude oil | Over 3 million metric tons | per month |
| Gas oil | Over 1.5 million metric tons | per month |
| M-100 | Over 1.5 million metric tons | per month |
Excess Oil & Gas also supplies a number of independent distributors throughout Europe and Asia with EN 590 and EN 228 through it's wholly owned subsidiary FuelClub NV. For a more detailed explanation please log onto
www.fuelclubnv.idps.co.uk
We are now receiving many requests to supply the EN standard fuels as more countries -- even in Mainland China, are adopting the lower sulphur fuels. This is an important aspect that we will address and increase the product of these fuels as they become available. Additionally Jet fuel is also a product that we can sell in large volumes subject to standards.
We utilise the facilities of the two major inspectors for petroleum products throughout the world namely -- SGS and Saybolt. It is preferable to use these independent companies as our clients, because of their independence, fully accept their professional reports as to quality and quantity and possible contamination, thus saving valuable time and money. Any disputes regarding these matters are quickly resolved to the benefit of all parties.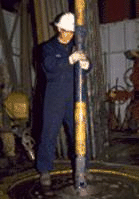 As Excess Oil & Gas always operates with these systems our reputation is second to none and confirms to our clients that that finances and product are secure. A good reputation brings in extra business. We are offered business before other companies as we work with our partners as if it were managing our own company. The Excess Group operates on the basis that everyone in the transaction should be earning good profits. This in turn promotes security and strength over the long-term which is what the oil business is a long-term business that is secured using long-term contracts.